Located at 43 Albert Road in the centre of Ashford this is the Head Office for the Nursery schools within the group and also the private residence for the owner Mrs. Val Webb.
Ashford Play Nursery offers a warm, homely and safe environment to care for your child.
The facility has been established in Ashford for over forty–five years and has been under the direct ownership of Val Webb since 1971.
The Nursery operates 5 days a week for 51 weeks of the year and all of the staff are qualified. Further in-house training is available as required.
All parents and carers are welcome to visit and arrangements for your first or frequent visits can be co-ordinated by contacting either the Manager Kerry Beeching or the Owner Val Webb.
Ashford Play Nursery School
Head Office
43 Albert Road
Ashford, Kent
TN24 8NU

Telephone: 01233 625301
Facsimile: 01233 610420

E-Mail: email@ashfordplaynursery.co.uk
Website: www.ashfordplaynursery.co.uk
Ashford Play Nursery | APN Albert Road (Head Office) | APNC Albert Road (Crèche) | APNS Wall Road | Directory of Related Links | APN Contact Details | APN Site Map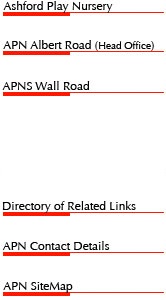 APN Albert Road
(Head Office)